About a year ago I received a new addition to my life, in the way of my dog – a Cavalier King Charles Spaniel named Misha. In the time I have spent caring for this animal providing a nice, comfortable life for him – I have found that the relationship I share with this special creature has actually taught me more about life than I could ever imagine.
In our society we spend our days busy, busy, busy – caught up in a world of disconnection through an addiction to the "connection" that is social media. We are so absorbed in making money, spending money, status, culture, looks, and ego that we lose sight of the real things in life that can provide us true bliss.
I look at Misha, and the positiveness he emits to the world around him, and how such simple things give him such joy. On walks he loves to stop and smell flowers, grass, trees, plants and really takes in the information he receives from their transmission of energy. Every new person, and animal he encounters he greets with a loving disposition, and zero apprehension or fear. Just the mere sound of another person's voice, or another animal near by makes him excited at the prospect of meeting a new friend. This animal's main objective in life is to love, and be loved. There is no stress in his body, or anxiety about the world around him – he lives in the moment and radiates this euphoric vibe that is completely contagious.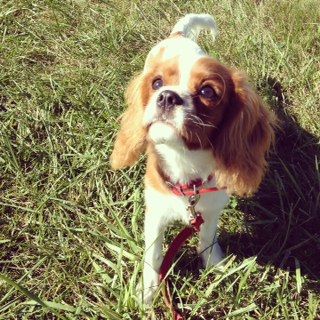 It may be so easy for him to live life this way, because as the saying goes, "ignorance is bliss". Without an awareness of self, ego, or culture this being is free to give love without any apprehension or preconceived notion of a person (or animal). However, taking into account that, at the end of the day, we are all animals – human beings just being highly evolved in their use of tools and cognition – why should we be living our lives with an attitude that we are all somehow different from one another, and that any being deserves prior judgement – or that material possession is the key to happiness.
In opening my mind and absorbing the knowledge this "unexpected teacher" has given me, I truly believe that people need to shift their way of thinking and take a cue from Misha. Do not pass judgment on others solely based on how someone looks or what their monetary "worth" is – approach each new person you encounter as a brother, or sister – a new friend that has a soul, just like you. Take time to enjoy nature, and see the real beauty surrounding you – open your eyes and ears to the world. The intelligent design that has given us the beauty of the complexity of the plant world is something to be marveled. The sounds of birds, and crickets chirping…the invisible force of wind dancing with life around it is awe inspiring.

If all of us live our lives with open hearts, and minds – the collective positive vibes will be contagious and only goodness can come from approaching day to day interactions with a different attitude. Don't let your ego get the best of you, let go, and embrace the love that is all around you, because it will only lead to fulfillment.